The Hell's Kitchen Funk Orchestra, led by Bill Warfield is celebrating landmark events with a new CD project entitled "Time Capsule"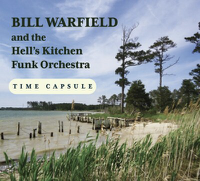 Time Capsule CD Cover
The Hell's Kitchen Funk Orchestra, led by Bill Warfield is celebrating landmark events with not only a new CD project entitled "Time Capsule" as well as high-profile industry considerations.
NEW YORK, Oct. 23, 2023 /PRNewswire-PRWeb/ -- Trumpeter, composer, and bandleader Warfield has energized audiences, performers, and writers for more than four decades. Time Capsule is the third CD by the Hell's Kitchen Funk Orchestra. Although its name may lead one to think that it is an inflexible or at least predictable funk band, the leader's arrangements and the group's repertoire are much more wide-ranging than one might expect. Bill's vision of funk extends beyond the melodically percussive style of soul music that found commercial currency from the late 1960s to the early 1980s. Warfield channels the funk impulse in a slickly invigorating manner on the Hell's Kitchen Funk Orchestra's third album, Time Capsule.
In September, Downbeat Magazine held the 88th Annual Readers Poll where Bill Warfield and The Hell's Kitchen Funk Orchestra were nominated in the Best Large Ensemble category. In addition, the orchestra is also under consideration in the current Grammy cycle in the following categories: Best Large Jazz Ensemble, Best Vocal Performance (Chrissi Poland "I Wish I Knew How It Feels To Be Free"), Best Arrangement, (Bill Warfield for "The Man In The Green Shirt"), Best Original Composition ("Zoe's Dance",) and Best Instrumental Solo (Lou Marini, "The Man In The Green Shirt").
"I'm inspired and happy to work with Gary Bartz, whom I have admired for years - ever since I heard him play with McCoy Tyner. We are both from the same town and I am excited to collaborate with him based on our mutual love of the Chesapeake Bay", says Bill Warfield.
As the director of Jazz Studies at Lehigh University, Warfield is known for inviting stellar guest artists to perform with his students and colleagues. Over the years Bill has presented collaborations with award-winning guests such as Randy Brecker, Dave Liebman, the Yellow Jackets, Eddie Palmieri, John Faddis, George Gruntz, and Buddy DeFranco.
On March 2nd, 2024 Warfield has invited Grammy award-winning saxophonist Gary Bartz to join the Lehigh University Jazz Repertory Orchestra for a musical performance. In addition, Warfield and Bartz, both from Baltimore, Maryland, hold a passion for the Chesapeake Bay. This has led to a collaboration to be documented in a new recording, "Bay Songs" (working title). Please be on the lookout for this new work by Bill, Gary, and the Hell's Kitchen Funk Orchestra on Planet Arts Network. Information about these recordings, performances, and events can be found at billwarfield.net.
"I'm inspired and happy to work with Gary Bartz, whom I have admired for years - ever since I heard him play with McCoy Tyner. We are both from the same town and I am excited to collaborate with him based on our mutual love of the Chesapeake Bay", says Bill Warfield